Voices of Victims Testimonials
August 7, 2016
As the victim of a violent crime, and more importantly the survivor of that crime, I am writing with great pleasure to recommend Joe Cannata and his wife Kaye of Voices of Victims.
While no one wants to become a victim of a crime, it happened to me in 2010 when I lived in the state of Colorado at that time. When the parole hearing of the perpetrator arrived I had moved forward with my life and relocated to a new state. I, like most people did not have the disposable income for a plane ticket, rental car, hotel and incidentals so I could attend the hearing.
Not only did I want my voice to be heard, but I wanted the voice of other victims who had not been able to bring the monster that committed the crime against me to justice. Voices of Victims made that possible by refunding my plane ticket, rental car, and food while I was in Denver, so I could attend the parole hearing. Thankfully, I had someone in which I could stay with so I did not need the expense of a hotel, but others may not have that luxury. If that would have been the case, Voices of Victims would have been able to reimburse me.
Because of Voices of Victims, the financial stress of an already emotionally charged event was lifted, and I was able to attend. Not only was I reimbursed, but I received a check within a week of sending in my receipt for my plane ticket, rental car and food receipts.
I cannot say enough about this amazing organization. Joe and Kaye are truly the Voices of Victims. It is a necessity for victims to be heard at a parole hearing. A letter does not have the same impact as a victim showing up in person, not just to the parole board, but for the victim themselves. It gives them a feeling of empowerment, a sense of closures in some cases, and though it may be a stressful, difficult process, Voices of Victims know how imperative this is for the victims to be there and they need your help in making sure that happens.
Please consider making a donation to this non-profit organization Voices for Victims today.
– Simone J.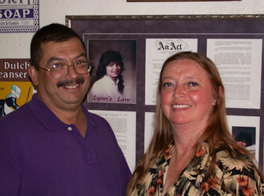 Please send your tax deductible donation to:
Voices of Victims, P.O. Box 100667, Denver, CO 80250
Or donate online now!
What they are saying about Voices of Victims
I have never met more caring and loving people who understand how you feel and give you support that you normally would not receive. I thank God for them every day.
The service I received was remarkable. I cannot thank you all enough. I appreciate everything you all done for me. My income is $721.00 a month. Without the help of Voices of Victims, I could not have made it there and back, and still had a place to live when I got back to Tulsa, Okla. I was nervous when I arrived there. The support Joe Cannata provided, with being there physically was priceless. He coached me through the whole process. I was totally alone until Voices of Victims stepped in, so thank you all very much. I cannot say enough about how grateful I am about the entire support that was provided to me through your organization. Again, thank you all.
Joe was extremely helpful before the hearing in explaining what to expect and after the hearing on how to interpret what happened. He is also very empathetic.
Everyone at Voices of Victims has been great. I don't know if I would have gotten through everything if these people wouldn't have been there. So compassionate to my every need. Please never change!
This organization is a blessing. To be able to have our travel expenses paid made it possible to attend the 2nd parole hearing. This was a milestone in my daughter's healing because the offender admitted what he did for the first time. This was a huge validation for my daughter and this organization made that possible. Thank you!
Each employee, since that day, have been helpful, caring, and just completely wonderful. They seem to "understand" what I have gone through. I appreciate Voices of Victims. Thank you.
Thanks so much for all that was done for us. It is amazing work that you do and it is greatly appreciated.
Colorado Organization for Victim Assistance
January 23, 2008
To Whom it Concerns:
I am pleased to be writing this letter in support of Voices of Victims. This recently established community based non-profit organization provides an essential service for crime victims who have chosen to be active in post-sentencing procedures related to their case. Voice of Victims provides education and support, including on-site support, for victims who attend parole, probation and community corrections hearings throughout the state.
This critical start-up enterprise contributes essential victim services that are not extensively provided through any other means. While Colorado's Victim Rights Act (VRA) does require that victims who opt in are notified of post-sentencing activities of offenders, the law does not extend to include any specific education for or on-site support of the victims throughout the process. Currently, government based resources for this type of victim support is very limited, making Voices of Victims' contributions to crime victim services critical.
Many people perceive that the criminal justice process is over once a trial has concluded and the offender has been convicted. However, for many crime victims, the conviction comprises only one leg of the journey. Most offenders will, at some point, be released to increasingly lower levels of confinement until their sentence is completed. Generally, an offender who is seeking to be moved into lower confinement levels must have a hearing – either before a parole or community corrections board. Victims, via the VRA, are entitled to be notified about and have a right to be heard at these hearings. However, because Colorado's correctional system and processes are often complex and confusing, notification alone does not help many victims who have a difficult time simply understanding and navigating the system. To that, we must add the significant emotional trauma faced by crime victims who, at this stage, are contemplating the minimization of confinement or release of the individual who harmed them.
The necessity of the support services provided by Voices of Victims cannot be overstated. The organization's executive director, Joe Cannata, is well aware of the impact the criminal justice system has on victims. He learned about the impersonal nature of the system, the frustrations associated with post-sentencing hearings and the emotional impact on its victim participants through his own experience as a crime victim over two decades ago. Since that time he has been advocating for crime victims on a statewide level, including volunteering his time to attend post-sentencing hearings across the state with other crime victims. Through these volunteer activities he uncovered a desperate need for post-sentencing support services and subsequently created Voices of Victims. Joe's contributions to crime victims during this stage of the process cannot be underestimated and it is exactly his range of experience and knowledge that will ensure Voices of Victims' success.
Voices of Victims will enhance Colorado's ability to effectively support crime victims who must continually relive the horror of their crime through the criminal justice process. I can be reached at 303-996-8080 if you have any further questions or need additional information. Again, it is with tremendous enthusiasm and gratitude for their work that I recommend Voice of Victims for funding.
Sincerely,
Nancy Lewis, Executive Director
Colorado Organization for Victim Assistance
2460 West 26th Avenue, Suite 255-C
Denver, CO 80211
303-861-1160
Creek County Advocates
To Whom It May Concern:
I am writing this letter in support of Voices Of Victims who provide post-sentencing support to victims of violent crimes.
I have just recently had the opportunity to work with Joe Cannata
and his organization. He helped us with a victim of sexual assault
during a parole hearing. With his assistance, the process was much smoother and more importantly, it helped relieve all the anticipation and anxiety of the victim. Mr. Cannata was extremely knowledgeable
of the process and understood the victim's fears.
Without the help of Voices Of Victims I honestly believe that our victim would not have been as forthcoming and the possibility of her backing out of the parole hearing would have been much greater.
I cannot express how grateful we are as victim service providers to have Voices Of Victims available as a resource to us.
Thank you.
Sincerely,
Joni J. Hargitt, Deputy Director
Creek County Advocates
Post Office Box 21
Georgetown, Colorado 80444
Colorado Department of Corrections
September 19, 2007
To Whom It May Concern:
I am honored to write a letter of support for Voices of Victims. Although it has only been in existence for a few months, my familiarity with Joe Cannata, Execute Director of the program goes back many years. As the Coordinator for the Department of Correction's Victim Services Unit, I first knew Joe as a registered victim with amazing accomplishments in Legislation. When the offender is Joe's case discharged from DOC, he volunteered with this unit to help victims at parole hearings and community reviews. With his personal experience attending these events, Joe became a valuable part of the DOC Victim Services Unit. He traveled around the State to be with victims going through often re-victimizing hearings and reviews.
Joe and Voices of Victims continue to assist the DOC Victim Services Unit. Along with personal assistance, VOV provides transportation, hotels, gas, food, etc to victims. Without emotionally and financial support of Joe and VOV, many victims could not attend parole hearings and community reviews.
Rose Young - Coordinator
Colorado Department of Corrections
Victim Services Unit